Celebs Suffer Skin Breakouts Too! 10 Stars Experiencing Acne Attacks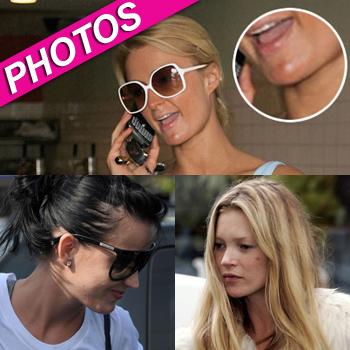 Just because they have access to the top dermatologists and most expensive skincare lines, doesn't mean that Hollywood stars are immune to acne!
From big screen bombshells and television stars to the sexiest singers on the stage, celebrities are just like us, and they experience acne attacks. RadarOnline.com has photos of 10 stars showing off their not-so-sensational skin.
Oops, Britney Spears had a breakout again! The pop star has famously battled pesky skin problems over the years, failing to cover up her facial flare-ups properly with concealer.
Article continues below advertisement
Gwyneth Paltrow has such sensational skin, she rarely has to wear makeup, but even the Academy Award winning actress has a breakout every now and then.
Victoria Beckham rarely leaves the house without looking perfectly Posh, but the fierce fashionista couldn't stop pesky little bumps from popping up on her forehead.
And Rihanna may have scored (and then lost) a Neutrogena contract, but the Good Girl Gone Bad singer doesn't always show off a flawless face. Same goes for her BFF Katy Perry, who has a Proactive contract.
Which other stars have battled acne? Find out by clicking here.