Bubba The Love Sponge Implies Hulk Hogan Actually Leaked Sex Tape!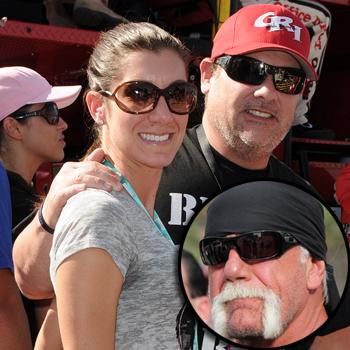 By Debbie Emery - RadarOnline.com Reporter
It is safe to say that the friendship between Hulk Hogan and Bubba the Love Sponge is over after the radio show host blasted his former pal live on air Tuesday morning, alleging that the wrestler was in on his sex tape scandal from the beginning.
Bubba, whose real name is Todd Clem, body slammed the 59-year-old when he told listeners that Hogan had "brainwashed" Bubba into giving his blessing for his then-wife Heather Clem to have sex with the him, and that while he had not seen the video yet, he confirmed that the sexual arrangement between the three of them was consensual.
Article continues below advertisement
He also alleged that Hogan might have been the one who leaked the tape, although he has denied that. "You can't play the victim like that," claimed Bubba.
As RadarOnline.com previously reported, Hulk filed a $100 million lawsuit on Monday against Gawker, who published a clip of the tape, and a lawsuit against his sex tape partner, Heather, and Bubba.
"Now that you've filed a lawsuit, it's over," Clem told listeners, referring to his relationship with Hogan, who was best man at Clem's wedding and a godfather to his child, reported TampaBayOnline.com.
The shock jock fumed on his show revealing how he was "disgusted" at what Hulk, a.k.a. Terry Bollea, was doing to his ex-wife, with whom he was divorced in 2011.
"I'm going to fight back for my family," vowed Bubba. "This goes right along the lines of his M.O. I will not take responsibility for what I've done.
"It's all denial. It's not my fault. I've been coddled and glad-handed all my life because I'm Hulk Hogan. Really?"
Article continues below advertisement
Despite receiving a legal letter from Hogan's attorneys warning him not to discuss the case on air, Bubba is ignoring the threat and said he is determined to do interviews and is planning to go on The Howard Stern Show later this week.
"We will be one of the first to stand up to Hulk Hogan," he said. "You can't treat me like the average groupie."
Clem went on to voice his regrets over letting his ex-pal regularly call into his show to air his dirty laundry about his messy divorce from Linda and his son's car crash.