Photoshop Faux Pas! Denim Brand Airbrushes Model To Anorexic Extent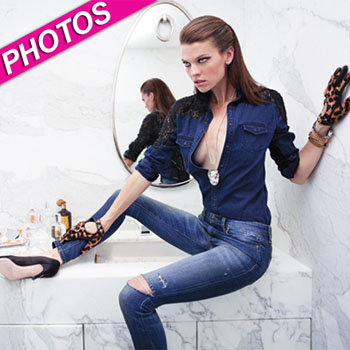 How skinny is too skinny?
Already thin model Alexandra Tomlinson was apparently not slender enough for Joe's Jeans! The 27-year-old, who has modeled for everyone from Dolce & Gabbana to Roberto Cavalli, is featured in the denim brand's latest ad campaign, where she was seemingly airbrushed to a scary skinny extent, and RadarOnline.com has the shocking photos.
First brought to attention by PsDisasters.com, the already skinny model's right leg appears to have been airbrushed to the size of her forearm.
Article continues below advertisement
The advertisement was part of an email campaign featuring Joe's Vintage Reserve 1971 collection, which ironically is "a modernization of the decade's silhouettes with edgy, sexy bodies in distressed washes that embody the onstage fashion and rock 'n' roll attitude of one of the most influential eras of our time."
What do you think about Joe's Jeans latest Photoshop effort? Sound off below.
RELATED STORIES: