Illinois Boy, 8, Donates $1,000 Prize To Cancer Stricken Girl, 2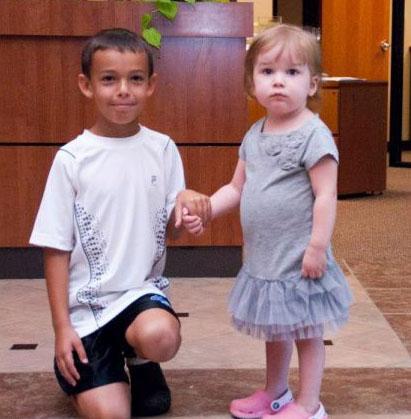 Edwardsville, Illinois boy Wyatt Erber, 8, donated $1,000 he won from a local bank's scavenger hunt to his neighbors the Kieltys, who have a 2-year-old daughter named Cara who is stricken with leukemia.
"I wanted to give it to them," he told the St. Louis Post Dispatch. "I didn't know what to do with it."
Wyatt's mother Noelle Erber told ABC News, "He's always been a very sweet boy...I'm very lucky to call him my son."
Article continues below advertisement
Noelle said that the boy, a third-grader, "was really aware of what cancer is" and that "when he found out Cara had cancer, his heart sank."
Cara's mother Trisha Kielty said charitable Wyatt called her and asked, "How much chemo will $1,000 buy Cara?
"I knew he was wanting to do it for Cara, which is the sweetest thing ever," Trisha said. "But an 8-year-old giving adults money? I tried to protest to his mom. Then she told me he asked how much chemo this would buy Cara.