Kate Middleton's Not The First In Nude Scandal! Other Royals Who Have Been Caught Undressed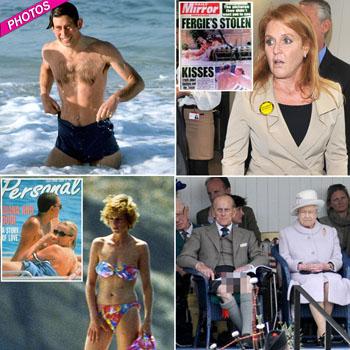 It seems the British Royals can't catch a break from camera lenses in recent weeks with Kate Middleton's topless picture scandal hot on the heels of a naked Prince Harry living it up in Vegas.
But the young Royals can take solace in the fact that they are not the first ones in their regal family to get caught in uncompromising positions by a shutterbug.
Twenty years ago Sarah Ferguson caused embarrassment to the Windsors when she was photographed having her toes sucked by Texan financier John Bryan while lying around topless on a sun chair in the South of France just months after her official separation from Prince Andrew. The shocking images were the final nail in the coffin to her marriage to the Duke of York.
Article continues below advertisement
And in 1994, Paris Match and German paper Bild, published naked pictures of Prince Charles taken as he took a vacation at a chateau near Avignon, again in France.
The heir to the throne was seen standing by a window in all of his royal glory after going for a swim and just had a white robe tossed over his shoulder.
And even the elder royals have had their share of blushes including just earlier this month when Prince Philip was caught out as he sat wearing his kilt at the Highland Games in Scotland. And in the traditional manner did not wear any underwear beneath the Scottish garb which allowed a snapper to get a clear shot of the 91-year-old's crown jewels.