Whoops-A-Daisy! Peaches Geldof Drops Baby Son On The Street, But Keeps Hold of Cell Phone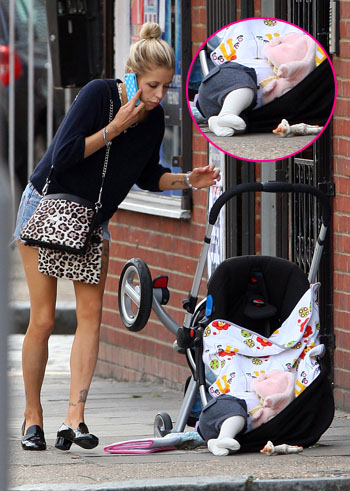 It's one of the top 10 nightmares of every new mom. But for one celebrity it happened in public and was caught on camera by a photographer.
Peaches Geldof, daughter of Live Aid organizer and rocker Bob Geldof, was pictured struggling after the stroller carrying her baby tumbled over and her little boy rolled out, almost hitting the pavement of a London street, and RadarOnline.com has the photos.
Article continues below advertisement
The 23-year-old looked horrified and rushed to comfort four-month-old son Astala.
Impressively she managed to do so without dropping her cell phone and seemingly maintaining the conversation she was having before the incident.
Geldof took to her Twitter page to explain what happened and to sound off about the state of the city's sidewalks, which she said are "crappy and dangerous."
She told her followers that the stroller "went into a pothole." The blonde added: "For the record, he WAS strapped in, the weight of his body popped the buckle open as he fell.
"And he was totally fine, wasn't hurt AT ALL and didn't cry."
Fellow rock star child and new parent Jack Osbourne was not impressed though. He Tweeted: "She is a complete idiot. I'd like to give her a piece of my mind."
The heart-stopping moment happened just a day after Geldof married Astala's father, Thomas Cohen.
The couple married in the same chapel where her mother the late Paula Yates married her father Bob in 1986.
Article continues below advertisement
Family Day Out For Ben Affleck, Jennifer Garner And Their Super Cute Son