Football Body Art Faux Pas! The 10 Worst Tattoos In NFL History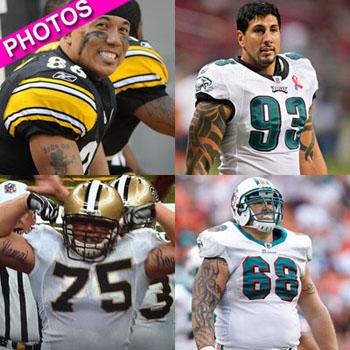 They may have all the right moves on the field, but these football stars aren't exactly making good plays when it comes to their choices in body art!
From super heroes and cartoon character to the faces of former lovers, the biggest names in the NFL are famous for showing off their atrocious ink on the field. RadarOnline.com has photos and details about the 10 worst tattoos in the history of the NFL.
Article continues below advertisement
Pittsburgh Stealer Lamarr Woodley is clearly a fan of X-Men, flaunting a super creepy image of Wolverine on his arm.
Jeremy Shockey loves his country so much so that he got a super sized and extremely colorful homage to America permanently etched on his arm.
"It speaks for itself," the tight end said in an interview. "I'm proud to live in this country, to have the right to express anything you want…I'm very American."
And Houston Texan Mitch King is so proud of being a "Mamas Boy," that he had the word "mamas" inked on his right arm and "boy" on his left.
Which other NFL players have awful tattoos? Find out by clicking here.