Lindsay Lohan's Bizarre Tweet To President Obama About Tax Cuts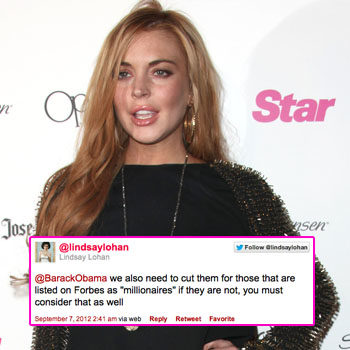 Article continues below advertisement
In response, Lohan sent a message right back to the President saying: "@BarackObama we also need to cut them for those that are listed on Forbes as 'millionaires' if they are not, you must consider that as well."
The actress didn't clarify exactly what she meant and she has since removed the tweet, but not before it was captured by The Huffington Post.
Several articles about Lohan's finances have appeared on Forbes.com within the past few months. Last week they wrote about the $46,000 Chateau Marmont bill the actress allegedly has not paid, lumping her into the "rich and famous" category.
In an earlier post about affluent celebrities receiving freebies, Forbes says she is in the "zeroes are my friends' club when it comes to finances."
It's been a busy 12 months for the former child star who was paid a reported $1 million to bare all for Playboy and has just finished filming a TV movie about Hollywood legends Elizabeth Taylor and Richard Burton.
Apparently she is not busy enough though because she also proposed collaborating with British boy band One Direction.
Article continues below advertisement
Michael Lohan: Lindsay's Latest Theft Fiasco 'Another Witch Hunt'