What A Difference A Few Years Make! Chelsea Clinton Goes from Awkward Teen To Polished Woman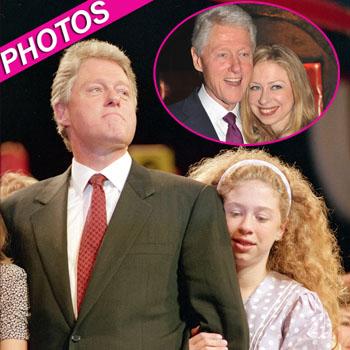 Article continues below advertisement
Now 32 years old, Chelsea made her first appearance at the Democratic National Convention in 1992 when she was just 11 years old.
With braces and her untamed red tresses Chelsea wore a sweet purple polka-dot dress as she stood with her parents.
The only child of the former President and First Lady faced harsh criticism when she was barely a teenager for her looks but always had a smile on her face as she spent eight years growing up in the White House.
After heading off to Stanford University, Chelsea moved to New York and worked in finance and as a special correspondent for NBC. She recently told Vogue magazine that seeing her mother enter politics has influenced her own decision to become more politically involved.
"Before my mom's campaign I would have said no. Not because it was something I had thought a lot about but because people have been asking me that my whole life," but she has since changed her mind.
Article continues below advertisement
"Her life is a testament to the principle that there are many ways to serve. And now I don't know….I mean, I have voted in every election that I have been qualified to vote in since I turned 18.
"So if there were to be a point where it was something I felt called to do and I didn't think there was someone who was sufficiently committed to building a healthier, more just, more equitable, more productive world? Then that would be a question I'd have to ask and answer."