Exclusive
Gloria Allred: Sandra Fluke's Speech At The Democratic National Convention Was 'Outstanding!'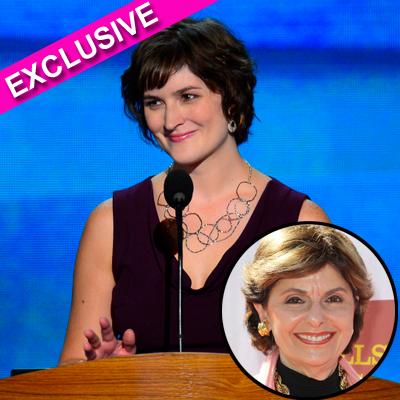 Article continues below advertisement
As RadarOnline.com previously reported, Limbaugh caused a firestorm earlier this year by calling Fluke, a Georgetown University law student who supports health insurers being required to offer birth control to their subscribers, a "prostitute" and a "slut."
"What does it say about the college co-ed Sandra Fluke, who goes before a congressional committee and essentially says that she must be paid to have sex, what does that make her? It makes her a slut, right? It makes her a prostitute," Limbaugh said in April. The shock jock subsequently apologized, but lost at least a dozen advertisers because of the comments.
"During President Bill Clinton's speech, Sandra Fluke came and sat right next to me in the California Delegation. I told her that I thought that her speech was outstanding. I especially liked her line that the President thought about his daughters, not his donors when he defended her. It was very powerful," Allred told RadarOnline.com exclusively.
President Clinton's speech received high praise from Allred. "I also predicted before the speech that President Clinton would rock the house and he did. He was honest, factual, compelling, charismatic, serious, and funny all at the same time. He pointed out the misleading representations of the Republicans and helped us all to understand the enormous achievements of President Obama and how much is at stake in this election. To say that he fired us up to get out there to work to get the President reelected is an understatement. He reminded us that we had peace and prosperity when he was President and how we lost all that under Bush, and that Bush left a big mess for Obama and that President Obama is making good progress, and that he needs four more years to get us out of this mess," Allred said.
Article continues below advertisement
Allred was also impressed with the speeches about Planned Parenthood and is distressed that GOP presidential nominee Mitt Romney and his running mate Paul Ryan want to defund the health care institution women have depended on for more than 50 years.
"The stories of the women and families that Planned Parenthood has helped were very moving. The contrast with the Republicans who want to defund Planned Parenthood and outlaw abortion, even in cases of rape and incest is clear. Women need to get this message loudly and clearly. I was very moved by all of the speakers last night.They spoke to our hearts, as well as our heads. President Obama will receive a wildly enthusiastic reception tonight for all that he has done for us and all that we know he will do in the next four years," Allred asserted. (Allred was raped at gunpoint in the 60s and got pregnant and had to have an illegal abortion performed, which she almost died from.)