Exclusive
'Nervous' Kristen Stewart Fretting Over Toronto Film Festival Appearance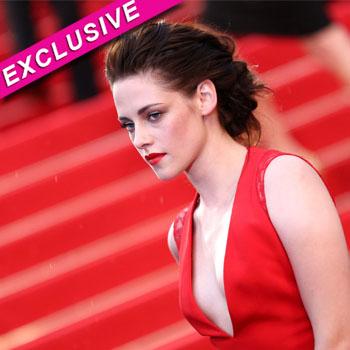 By Jon Boon - RadarOnline.com Reporter
Kristen Stewart is having "sleepless nights" as she prepares to promote her new movie at the Toronto Film Festival, RadarOnline.com is exclusively reporting.
The Twilight star's latest flick, On the Road is the first film to screen at the annual event where it premieres on Thursday night, and it comes with a great buzz.
However, K-Stew, 22, is overcome with nerves about her first red carpet appearance since her now infamous cheating scandal and hopes her personal life doesn't overshadow how the motion picture is received by the critics.
Article continues below advertisement
"Kristen Stewart hasn't been able to get a wink of sleep in the run-up to the film festival," a source revealed.
"Even though members of the media have been strictly told that questions about her cheating scandal are off-limits, she's been fretting over the film's premiere.
"She really hopes that the critics are kind to her when it comes to the reviews and they don't judge her on her personal life.
"On the Road is a project that's very close to Kristen's heart. She is a big fan of the original novel by Jack Kerouac and wants the movie to get the praise she thinks it deserves.
"Kristen's worried that because it opens the festival, a lot is expected of it and just prays that it's well received," the source concluded.
As RadarOnline.com prevus reported, Kristen is still struggling to get her life back on track after splitting with Robert Pattinson following her embarrassing cheating scandal with her married Snow White and the Huntsman director, Rupert Sanders.
So, the young starlet has been spending her time out of the spotlight reflecting on her actions and turning to self help and enlightenment books in a bid to overcome her feelings of self loathing and regret.
Article continues below advertisement
"Kristen is trying to find some inner peace within herself," a source close to the actress revealed.
"And she is reading a lot. She has always been interested in philosophy and spirituality and she has been reading a lot of different books. Strangely enough, the one author that has really been resonating with her is Gandhi, whom she decided to find out more about after watching Eat Pray Love.
"She began reading a biography of his life, then turned to Gandhi's own writing because the quote that particularly stands out for her is, 'The weak can never forgive. Forgiveness is the attribute of the strong.' While she doesn't know if Rob could forgive her, that statement has tempered her own regret.
Looks Like It's Over! Rob Pattinson Selling L.A. Home He Shared With Kristen Stewart
Liberty Ross Inundated With Acting Offers Since Husband's Kristen Stewart Cheating Scandal