Katie Holmes High Fives Suri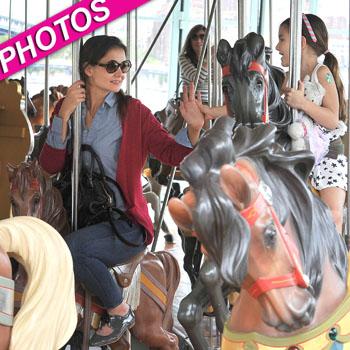 Katie Holmes seems to be riding out the storm of the Scientology marriage recruitment scandal whirling around her.
The former Mrs. Tom Cruise and their daughter, Suri, went for a carousel ride in New York Monday, and Katie looked to be having a blast.
She was seen giving Suri a high five as they sat across from each other on carousel horses, and Katie made several funny faces at her little girl.
Article continues below advertisement
Not even having to carry Suri through puddles left over from a morning thunder storm could damper her spirits.
As RadarOnline.com has been reporting, Tom and Katie are the subject of a blockbuster Vanity Fair cover story detailing Scientology's alleged recruitment of girlfriends for Cruise as officials sought to find him a new wife in 2004.
Cruise's reps are calling the allegations "lies." He's currently vacationing with friends in Croatia.