Katie And Suri: Business As Usual As Scientology Marriage Recruitment Story Hits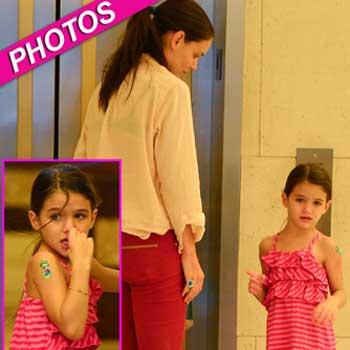 Katie Holmes took daughter Suri out to do some food shopping on Sunday, just as a blockbuster magazine article about how girlfriends and brides were recruited by top Scientology officials for Tom Cruise hit the Internet.
As RadarOnline.com previously reported, Vanity Fair's special correspondent Maureen Orth has penned possibly the most detailed account yet of how Katie, and women before her, were recruited for Tom.
Article continues below advertisement
The monthly put a portion of the article on its website Sunday, complete with Scientology's wholesale denial of its accuracy.
But today Katie seemed more concerned about keeping a tight hold of Suri who kept trying to wander away on their way back from the upscale grocery store on the street level of their Manhattan apartment building.
Holmes may be feeling more jitters about her first Holmes & Yang show staged during New York Fashion Week. It's set for September 12.