French Editor Defends Topless Kate Middleton Photos: Hints She Has Sex Photos Too!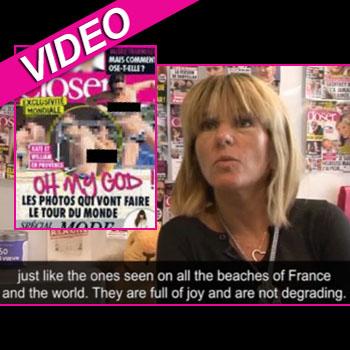 The French editor who printed topless photos of Kate Middleton has hinted that she also has sex photos of the royal couple, RadarOnline.com is reporting.
Closer editor Laurence Pieau mooted the suggestion in an interview that appears on the UK broadsheet The Guardian's website.
Defending her decision to publish the photos, Pieau revealed: "I won't hide the fact that there are more intimate pictures that exist that we haven't published and will not publish. These are images full of joy, not degrading."
Article continues below advertisement
While she didn't use the word sex, her wording suggests that they have pictures that are completely unprintable in a mainstream magazine.
As RadarOnline.com previously reported, St. James Palace announced they have begun "legal proceedings" against the French magazine for publishing the topless photos.
The statement released by the Palace said "legal proceedings for breach of privacy have been commenced today in France" by the royal couple, which they described as "grotesque and totally unjustifiable."
Closer published the photos of Kate without her bikini top, which were taken while they were sunbathing around the swimming pool of Château d'Autet, the private residence of the Queen's nephew Viscount Linley in Luberon, France.
St.James Palace swiftly condemned the photos and invoked the memory of the late Princess Diana in their statement.
"Their Royal Highnesses have been hugely saddened to learn that a French publication and a photographer have invaded their privacy in such a grotesque and totally unjustifiable manner.
Article continues below advertisement
"The incident is reminiscent of the worst excesses of the press and paparazzi during the life of Diana, Princess of Wales, and all the more upsetting to The Duke and Duchess for being so.
"Their Royal Highnesses had every expectation of privacy in the remote house. It is unthinkable that anyone should take such photographs, let alone publish them."
RELATED STORIES:
French Magazine Showing Kate Middleton Topless Hits Newsstands