Kate Middleton Suing Over Topless Photo Scandal!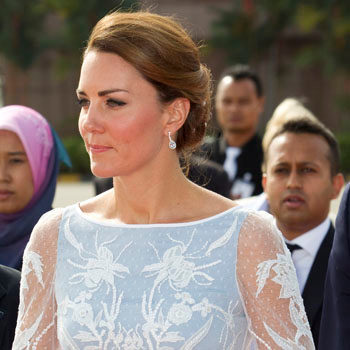 Article continues below advertisement
French gossip magazine Closer published the photos of Kate without her bikini top, which were taken while they were sunbathing around the swimming pool of Château d'Autet, the private residence of the Queen's nephew Viscount Linley.
With Prince William by her side, Kate had a serious look on her face but managed a few smiles in these photos obtained by RadarOnline.com of the couple at a Diamond Jubilee tea party at the British High Commission in Kuala Lumpur, Malaysia.
Wearing an ice blue lace dress by Alice Temperley with her hair decorated with pearl pins, Kate was charming at the reception seeming to ignore the swirling scandal about the topless photos.
St. James Palace swiftly condemned the photos and invoked the memory of the late Princess Diana in their statement.
"Their Royal Highnesses have been hugely saddened to learn that a French publication and a photographer have invaded their privacy in such a grotesque and totally unjustifiable manner. The incident is reminiscent of the worst excesses of the press and paparazzi during the life of Diana, Princess of Wales, and all the more upsetting to The Duke and Duchess for being so.
Article continues below advertisement
"Their Royal Highnesses had every expectation of privacy in the remote house. It is unthinkable that anyone should take such photographs, let alone publish them."
The 30-year-old Duchess was on vacation with her husband in Luberon, France when the lurking photog snapped the invasive pictures which have rocked the world.
"Discover the incredible pictures of the future Queen of England as you've never seen her before... and as you will never see her again!" the magazine's website bragged about the photos.