Away They Go! William And Kate Hoisted Into Borneo Rainforest Trees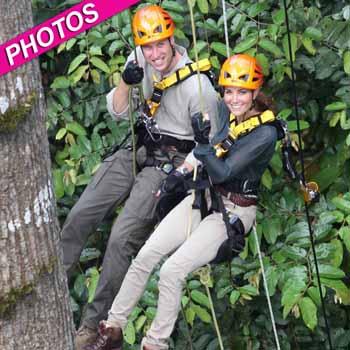 Putting her topless photo scandal aside for the sake of royal duty, Kate Middleton put on a harness and helmet and was hoisted into a tree in a Borneo rainforest. And she did it all with a smile on her face.
Kate and Prince William braved their high-flying adventure to promote conservation -- by helping to stop deforestation -- in the area.
After arriving by helicopter and taking in the sights of the Imbak Canyon and Maliau Basin and its spectacular waterfalls, the royal couple toured the Danum Valley research center where they got to see the conservation work of the Royal Society, which William supports.
Article continues below advertisement
Then it was time to tackle those 130 ft. tall trees!
They were each fitted with a harness and helmet, and were then hoisted into the trees.
"I''m going to go 'whee' and fly the way up," Kate joked.
Thanks to the way his harness was fitted, William had a slightly more serious take on the climb.
"Girls don't have the same wardrobe malfunctions as men do," The Daily Mail: reports he quipped.
"I hope I don't have any wardrobe malfunctions."
He didn't and it all went off without a hitch.
MORE PHOTOS: Sexy, Stunning And Shocking Fashions From The Royal Wedding
The same can't be said for the French magazine Closer's decision to publish those topless photos of Kate.
As RadarOnline.com reported, the magazine has announced it is removing the offending pictures from its website.
That isn't stopping the royal family from taking legal action.
A statement released by the St. James Palace said "legal proceedings for breach of privacy have been commenced today in France" by the royal couple, describing the publication of the pictures as "grotesque and totally unjustifiable."