Singapore Surprise: Kate Middleton Toasts With Water, Prince William Says He'd Like 2 Kids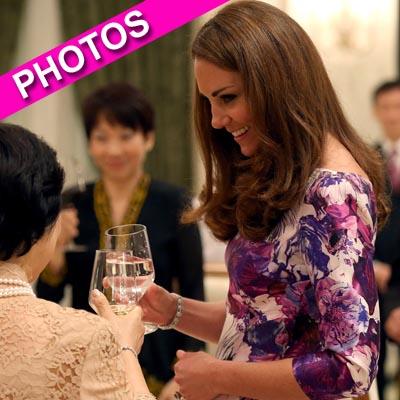 Hear that? It's royal baby buzz for the Duke and Duchess of Cambridge!
Prince William and Kate Middleton both dropped some clues to a possible pregnancy Wednesday while in Singapore as part of their Diamond Jubilee Tour, and we've got all the photos and details for you right here on RadarOnline.com.
Kate, clad in a floral purple dress, set Twitter abuzz during a state dinner with Prime Minister Lee Hsien Loong when she conspicuously toasted with water.
Article continues below advertisement
As if that wasn't enough grist for the rumor mill, during an earlier walk through Singapore's Gardens by the Bay, the prince gave a Singapore youngster a giant scoop when the child asked him how many kids he'd like to have, and he replied, "two."
The hunky royal told Katie Couric in May he's "just very keen to have a family" and that he and Kate are "looking forward to having a family in the future."