Exclusive
Sons Of Anarchy Star Johnny Lewis Was A Scientologist, Used The Religion To Help Lead 'Happy Successful Life'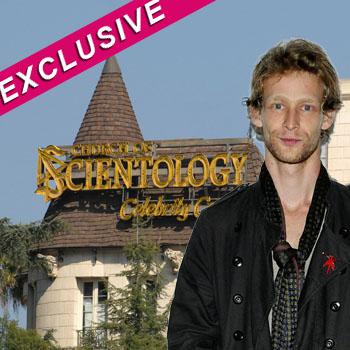 The late Sons of Anarchy star, Johnny Lewis, who is suspected of murdering his elderly landlady before falling to his death, was a high profile Scientologist, RadarOnline.com has learned.
The troubled 28-year-old is listed on numerous websites, message boards and blogs as being a member of the controversial religion followed by the likes of Tom Cruise and Kirstie Alley.
Ironically one Scientology blogger, who says his daughter did much of her early religious training with Lewis, lists him in a category dedicated to the "Celebrities who use Scientology and Dianetics to help them live happy and successful lives" following a speech the troubled star gave crediting the religion.
Article continues below advertisement
As RadarOnline.com previously reported, the actor, whose full name was Jonathan Kendrick Lewis, had a violent criminal history and was charged with burglary and assault with a deadly weapon in early 2012.
Authorities suspect him of murder after officers responded to reports of a lady screaming at a Los Feliz, Calif. property only to discover Lewis' body on the driveway and the body of 81-year-old Catherine Davis inside.
Police confirmed there was an altercation between the two but that Lewis died from his fall from the rooftop.
Lewis was fresh out of jail and reports suggest he was on PCP or Meth at the time of his death, however officials could not confirm this.
"We do have his body and the autopsy is scheduled for today," said L.A County Assistant Coroner Ed Winter. "We do not have his cause of death and will not have any information as to what was in his system."