'Real Housewife' Jacqueline Laurita Calls Teresa Giudice 'Calculating, Scheming'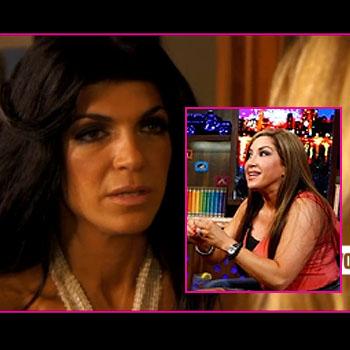 In a new Bravo blog, Real Housewives of New Jersey star Jacqueline Laurita calls out Teresa Giudice and Dina Manzo for their "calculating and scheming" ways after the two bonded like BFFs during a recent wine party on the show, despite Teresa's ongoing feud with Dina's sister Caroline.
In the exchange, Dina apparently forgot blood is thicker than water, telling her sister's arch-rival, "You didn't do anything to my sister to really hurt her so to me it's kind of silly," which Teresa ate up.
Article continues below advertisement
Jacqueline said that "Teresa knew exactly what she was doing by bringing Dina into that conversation about Caroline while the cameras were on them and Dina had to know what she was getting into as well.
"That's all I will say on that."
Jacqueline also commented on the slight of not being invited to the aforementioned bash, saying she was actually relived after having become "very frustrated" with Teresa and her duplicitous tendencies.
"I knew at that point that her make-up with me was not sincere, and I had been waiting for her true feelings to come out on camera," she wrote. "As for me, I really didn't need more aggravation in my life, so I was happy to avoid as much as I could at that point."
The Real Housewives of New Jersey airs Sundays on Bravo at 10/9c.
RELATED STORIES:
PR Firm Claims Nicole Murphy Trash Talked Them