Fiona Apple Busted For Drug Possession On Tour Bus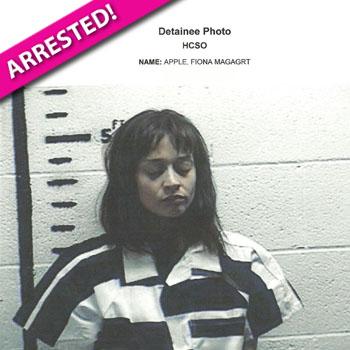 By Jon Boon - RadarOnline.com Reporter
Singer/Songwriter Fiona Apple was arrested for drug possession in the Texas border town of Sierra Blanca on Wednesday, RadarOnline.com has confirmed.
According to reports, hashish and a small amount of marijuana were found on the Every Single Night star's tour bus during a routine check at a border stop.
Apple, 35, was taken to Hudspeth County Jail, where she is currently being held and was charged with possession.
Article continues below advertisement
The troubled performer is scheduled to perform in Austin, Texas Thursday night, but it is not known if she will be forced to cancel the concert.
Gary Fleming, a public information officer at Hudspeth County Sheriff's office, confirmed the arrest but revealed there was no further information at this time.
In her mugshot, Apple appears disheveled as she poses in jail garb.
Apple joins the long list of famous faces who have run into trouble at the Sierra Blanca border. Country music legend Willie Nelson, rapper Snoop Dogg and actor Armie Hammer have all been arrested there for drug possession in the past.
Back in 1997, it was speculated that Apple suffered from an eating disorder with The New Yorker claiming she "looked like an underfed Calvin Klein model."
Apple has been enjoying somewhat of a miraculous comeback of late. The Idler Wheel, her first record in seven years, was released in June to rave reviews and she has been touring ever since.
However, in a lengthy interview with The New Yorker earlier this summer, she spoke of drinking "marijuana-laced lemonade" and smoking pot with writer Dan Lee.