Yah Mon! Vintage Photo Surfaces Of Brooke Shields 'Smoking Pot'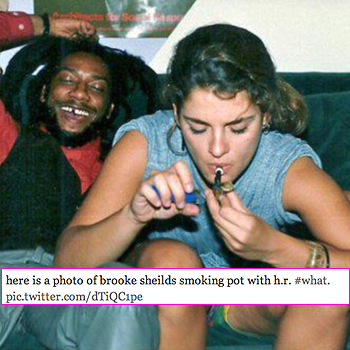 UPDATE: A spokesperson for Brooke Shields vehemently denies that the woman depicted in the twitter photo is Brooke Shields.
Is Brooke Shields smokin' da ganja?
The 47-year-old actress, who rose to fame as a teenage model and actress, was snapped several decades ago taking a hit off a pipe with Bad Brains singer H.R., with a Twitter user sharing the snap on Wednesday, and RadarOnline.com has the photo.
Article continues below advertisement
"here is a photo of brooke shields smoking pot with h.r. #what," David Hill captioned the image.
The photo, which appears to be have been taken when the actress was in her late teens or early twenties, features the Blue Lagoon star in a grey t-shirt and colorful shorts, taking a hit off a pipe with the reggae singer sitting with his arm around her and his head thrown back in laughter.
RELATED STORIES: