Inside The Glamorous Life Of Bethenny Frankel: Pizza, Poop And Fries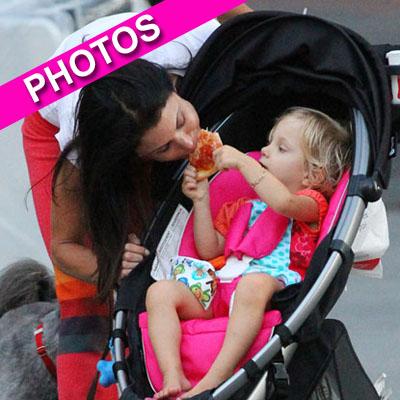 She is known for her healthy lifestyle but even Skinnygirls have off days and RadarOnline.com has the photos to prove it.
Bethenny Frankel was snapped in New York City on Sunday indulging in a slice of pizza, fed to her by her adorable two-year-old Bryn Hoppy.
The mother and daughter duo went for a stroll with the family dog Cookie.
Barefaced and dressed down in a white T-shirt, colorful sweats and flip-flops, the 41-year-old was on full-blown mommy duty.
Article continues below advertisement
It seems that pizza is not the only naughty food the former Real Housewives of New York City star nibbled on this week.
She took to Twitter to confess she was recovering from a night out with friends. The margarita queen told her followers on Sunday: "The day after girls' night out equals fries, chips, ice cream & cookies."
Hours earlier she also posted a photo showing her at a restaurant with three of her friends. The caption read: "Girls rule! Boys drool?"
But the reality TV star got a reality check on Monday morning. She wrote a cheeky tweet telling her fans: "I'm all dressed up, I give Bryn a hug while naked then I realize in the elevator that I have poop on my hand. #livingtheglamorouslife."
As RadarOnline.com previously reported, Bethenny has had a busy few days. The talk show host was also spotted paddle boarding at a New York beach last week while promoting Skinnygirl.