Exclusive
The Real Reason Adrienne Maloof's Husband Paul Nassif Was Given Supervised Visitation With Their Kids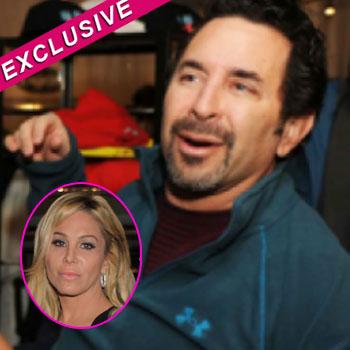 The Real Housewives of Beverly Hills star Adrienne Maloof's estranged husband, Dr. Paul Nassif, was given supervised visitation of their three sons because the judge had concerns about the plastic surgeon's temper, RadarOnline.com is exclusively reporting.
"There were concerns about Paul's temper, and this is the reason why the judge ordered him to have supervised visitation with their three sons," a source close to the situation tells RadarOnline.com exclusively. "Paul had wanted the judge to re-instate his visitation when he went into court on Wednesday but his request was denied. The judge would have given Paul his legal rights back to the kids if he felt that the allegations involving physical and emotional abuse lacked merit. Yes, Paul was cleared by social workers of physical abuse allegations but that doesn't mean that there aren't other areas of concern when it comes to the safety and well-being of the kids."
Article continues below advertisement
As we previously reported, Maloof obtained a temporary restraining against her husband of thirteen years after he allegedly choked one of their children.
Supporting Maloof's bid for the temporary restraining order were sworn declarations submitted by a family friend, who is a retired DEA agent, the couple's psychiatrist and the family chef which substantiated the concerns of alleged abuse.
"I was also present at the family residence on Wednesday, September 12, 2012, when Paul arrived to pick up the children," family friend Ed Follis said in a sworn declaration. "I saw that Paul looked very angry, and he yelled at Adrienne about not taking the boys to soccer practice. I saw Paul grab one of the six-year-old twins by the hair, and he yanked the child. The child started screaming and appeared to be very frightened. I am worried about the well-being of the children when they are with Paul because he reacts violently in many situations. I have seen him react to the behaviors of the children and his usual response is to yell at them, grab them, and pull them away to get them to stop whatever they are doing that he does not like."
Maloof said in her sworn declaration: "Paul Nassif has often shoved me to the ground, pulled my hair and yelled at me. Most recently, in July 2012, he shoved me to the ground with enough force that I hit my head on the floor when I fell. I immediately jumped up because I knew that if I stayed down I could be kicked. He grabbed my hair and pulled. I grabbed his hair, trying to get him off of me."
The family chef also alleged that he observed "Paul drinking large amounts of alcohol and in particular, scotch on a daily basis. While at the residence Paul had a nightly habit of drinking one-and-a-half highball glasses full of scotch without ice or water.....When Paul drinks, Paul tends to fight with Adrienne. I have overheard many arguments between Adrienne and Paul and during some arguments I have heard Adrienne say, 'Get off me. Get away from me.'"
MORE ON:
Celebrity Justice
Article continues below advertisement
"Just because there was no evidence found of physical abuse by social workers doesn't mean that Paul is off the hook," the source says. "Paul has a temper and he is going to have to learn to handle it better."
A hearing to determine whether or not the temporary restrianing order should be made permanent will be held on October 9. Nassif will have two supervised visits with the boys on the next two Saturdays from 9-5.