Exclusive
Toddlers & Tiaras Star On Judge Banning Maddy From Competing: 'Pageants Aren't Illegal!'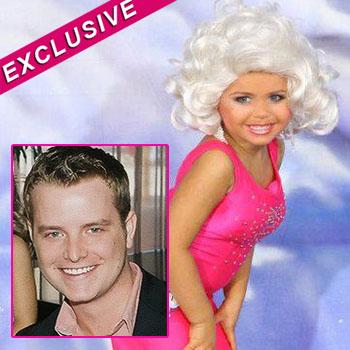 Article continues below advertisement
"He has stooped so low to use pageantry as a defense in a case against his wife," New York City talent manager Blake Woodruff told RadarOnline.com in an exclusive interview.
"He has used the little bit of fame his daughter Maddy has gotten and now he is trying to turn it into nothing more than fame and press for himself. What is next a book deal for him or a spin off reality show?"
As RadarOnline.com first reported, Lindsay was slapped with a gag order and ruled by a judge to no longer enter her daughter in pageants at least until their next court hearing on August 31.
"What kind of judge tells a parent what kind of extracurricular activity they can put their child in? Pageants aren't illegal and they're not harming Maddy," a source close to the situation told RadarOnline.com.
"I have worked with some of the top models and actors in this business and deal with parents all of the time. If this man succeeds in what he is attempting to do, then I have lost faith in our justice system," Blake, who is also a recurring character on Toddlers & Tiaras said.
Article continues below advertisement
"What am I going to do when one of the parents of one of my models or actors gets upset, files for divorce and has a judge stop them from participating in film and TV?"
Maddy's father is on probation for a DUI and is a convicted felon who has never had custody of their six-year-old daughter, and Lindsay told RadarOnline.com before the gag order that he has supported their daughter being in pageants since she was 13 months old.
Blake told RadarOnline.com that he will continue to support the little girls and families involved in pageants.
"No one should have the right to constitute what someone can and cannot do with their child as long as it is healthy and safe," Blake said.
"Tell all of these child psychiatrists to take that as their daily dose of medicine. I call this a jealous parent trying to cash in on his child's fame."