Roseanne Barr & Tom Arnold Reunite After 18 Years At Her Roast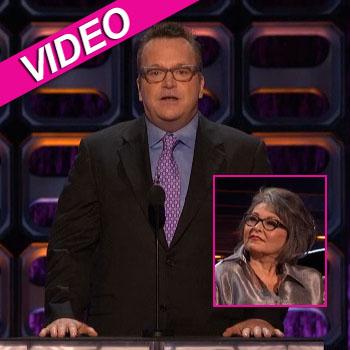 After 18 years of silence, Roseanne Barr and ex-husband Tom Arnold reunited at the TV legend's roast which aired Sunday night on Comedy Central.
"Why am I here? I'm here to honor Roseanne and because I earned it -- the hard way," said Tom, who parted ways with Roseanne in a messy split back in 1994.
Tom told the She Devil star's current boyfriend, Johnny Argent: "You've gotta stay with this woman. She may not be the perfect wife, but she's literally the worst ex-wife on the planet."
Article continues below advertisement
Tom concluded his set with a classy tribute paying homage to his enigmatic ex.
"In 1985, Roseanne went on Johnny Carson, which is every comic's dream back then," he said. "She killed, he laughed his ass off, he gave her a thumbs up and he invited her to sit on his couch. She got validation from the king which can never be taken away from her.
"And I just want to say, Roseanne, you were my Johnny Carson. And thank you for the thumbs up and thank you for inviting me to sit on your couch for a little bit."
When she had her chance to strike back, the outspoken Roseanne said, "If I can bury my roiling-boiling ceaseless hatred for Tom Arnold, maybe there's a chance we can have world peace."
Watch the video on RadarOnline.com
Glee's Jane Lynch hosted the event, kicking off with a hysterical take on current events.
"This show is serving up more old, spoiled hens than Chick-fil-A," Lynch said. "Oh, that reminds me: f--- Chick-fil-A!"