Roseanne Barr To Pres. Obama, 'You Get My Joint When You Pry It Out Of My Cold, Dead Fingers!'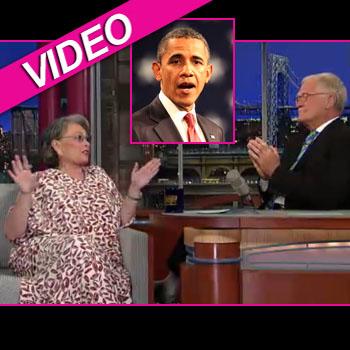 Roseanne Barr loves her marijuana.
The TV star, appearing on the Late Show with David Letterman Tuesday, explained that her hot temper of yesteryear has been cooled by regular hits from the bong.
"I wasn't as stable in the past ... that's before I started smoking the medical marijuana," the 59-year-old said.
Roseanne, who's never been shy to wear her politics on her sleeve, had a warning for the commander-in-chief in regards to overturning California's liberal marijuana laws. (It is legal there with a doctor-prescribed license.)
Article continues below advertisement
"One thing I want to say: President Barack Obama is trying to take our medical marijuana away over there in California, and he's going to send in Federal troops to get our medical marijuana.
Watch the video on RadarOnline.com
"I'll tell you this Obama: You get my joint when you pry it out of my cold, dead fingers!"
Roseanne, lamenting the issues marijuana assists, said it's helped her "mental illness ... which is why I use it."