Exclusive
EXCLUSIVE: Roseanne Barr And Ex-Husband Square-Off In Court Over Custody Agreement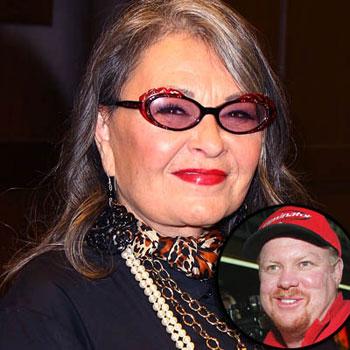 Roseanne Barr has arrived at a Los Angeles courthouse Thursday morning to square off with ex-husband Ben Thomas over a custody agreement that was to remain confidential and sealed, RadarOnline.com is exclusively reporting.
In October 2010, Thomas filed unsealed documents in the former couple's divorce case claiming Roseanne was violating the custody agreement for their now 15-year-old son, Buck, by not fronting the bill for Thomas and his new wife to see his son.
Article continues below advertisement
Thomas claimed when Roseanne decided to move to Hawaii a year earlier and wanted to take Buck with her, she agreed to fly Ben and his new wife over to see him for 10 days each month, all expenses paid. He claimed Roseanne pulled the plug on the deal, quoting from one of her emails "I decided I'm no longer interested in abiding by this ridiculous arrangement" and suggested if he wanted to see Buck, he could "buy himself a ticket and book a room."
However, according to Roseanne, when the former couple divorced, their "2002 Agreement and Order" mandated intense confidentiality and ordered the sealing of all documents – something that didn't happen with Thomas' October filing - and those actions didn't sit well with the comedienne.
What particularly ticked off the stand-up queen-turned-author, was that Thomas' October filing included emails she'd written him, complete with her email address!
Article continues below advertisement
In response, Roseanne filed a civil lawsuit in January against the former bodyguard claiming he "ignored the confidentiality provision which he was unquestionably bound by, and revealed his self-serving attitude and wanton disregard for Plaintiff's privacy, emotional sanguinity...."
COURT DOCUMENT: Roseanne Barr Sues Ben Thomas
Roseanne moved to the Big Island of Hawaii with Buck, and her boyfriend of seven years, Johnny Argent where she raises macadamia nuts.
But even in Hawaii, the comedienne is embroiled in a legal battle – this time with her neighbors.
The neighbors, who own property next to Roseanne's 46-acre macadamia nut farm, filed a complaint about unauthorized grading work being done on the farm. Roseanne accused them of harassment and trespassing, including videotaping her and the farm and she wanted to get a temporary restraining order against them.
Article continues below advertisement
However, the parties involved have agreed to mediation and will return to court later this month with hope of a resolution.
Roseanne and Thomas married on February 14, 1995, split-up for several months in 1998 before reconciling and renewing their vows on her talk show.
Ultimately, the marriage didn't last and Roseanne filed for divorce in March 2002. The divorce became final in October that same year.