Exclusive
Michael Phelps' Girlfriend Has Been Chasing Celebrities For Years, Had Her Eye On Zach Braff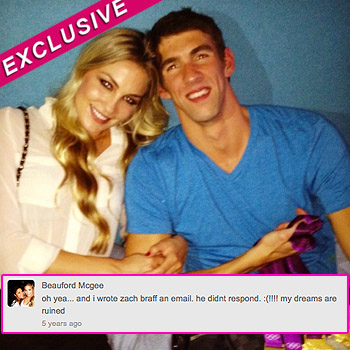 Article continues below advertisement
With Phelps' friends already fearing that Rossee's intentions may be just to use the swimmer for fame, her pursuit of other celebs could be another red flag.
"oh yea…. and I wrote zach braff an email. He didn't respond. :(!!!! my dreams are ruined," Megan wrote to her sister, Melissa, on Myspace nearly five years ago.
Interestingly, Megan has no known Facebook page but is still active on Myspace (remember Myspace???) — with her last login on July 26, 2012.
Turns out Megan has been a cocktail waitress for many years and worked at V20 in Long Beach, Calif. in 2008, which has since been shut down.
"im so bored at work. pray that lots and lots of asians want to go out and spend money because v2o will be crackin!" Rossee wrote on Myspace.
Rossee's dad is also on Myspace and posted a photo of Megan happily posing next to the Dallas Cowboys goal post in what appears to be a training camp, proving her adoration for athletes.
Article continues below advertisement
As RadarOnline.com first reported, Phelps' closest pals worry the leggy blonde may leave him heartbroken once she gets what she needs from him.
"Michael is like a puppy dog around Megan – he's completely in love with her. However, like any young girl hoping to make it in Hollywood, she's ambitious and knows that by associating herself with Michael she will get a lot of press herself," a close source said.