Levi Johnston's Baby Mama Ready To Pop: 'I Want Her Here Now!'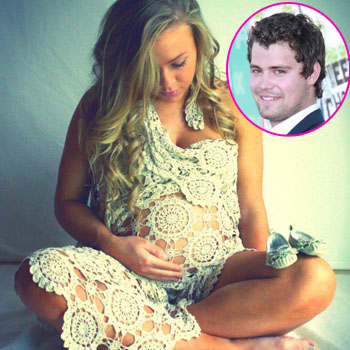 Article continues below advertisement
"Jealous of everyone who has their babies.. Im soooo Impatient! Want her here NOW!" she wrote on her Facebook page.
"I got someone who loves me more than words can say," she wrote. "And I'm thankful for that each and every day And if I count all my blessings, I get a smile on my face :)"
As RadarOnline.com previously reported, viewers were shocked when Levi and Bristol's three-year-old Tripp dropped the F-bomb in a July episode of Life's A Tripp.
That incident, along with others documented on the Lifetime show, prompted Levi, 22, to pick up paperwork at the local Wasilla, Alaska courthouse earlier this month so he can file documents for full custody.
"I Miss my Tripp! I Wish I had some way, any way to get a hold of him," Levi posted on his Facebook page last Friday.
"Last I heard he was out of state with out any permission from me at all... AGAIN."
Article continues below advertisement
"Yes the sad reality is that (most) young men dont want to be involved in their childrens life.. Levi has however ALWAYS tried to see his son and WILL be seeing him very soon because he has every right to!" Sunny wrote on her Facebook in support.
On Tuesday Levi's baby mama stated, "Don't judge me until you know me. Don't underestimate me until you challenge me. Don't talk about me until you've talked to me. Thanks;)"