Frank Sinatra's New York Penthouse Set To Go On Sale For $7.7 Million: Take A Peek Inside!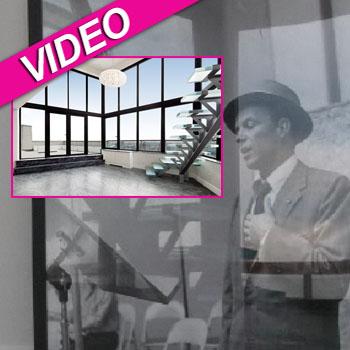 Article continues below advertisement
"The apartment has been modernized, but it is still set up for someone with that Rat Pack mentality,'' real estate broker Jason Haber told the New York Post. "It is really for someone who wants to entertain, to have people over, to have dinner parties."
While it has undergone extensive renovations, whoever buys the $7.7 million condo when it goes on the market next week with be moving into a slice of Rat Pack history that Sinatra helped design during the 1961 construction.
The four-bedroom, six-bath apartment with towering 18-foot ceilings and bare brick walls was the location of many a wild party on the glassed-in rooftop during the New York, New York singer's swinging single years after his divorce from Ava Gardner, when he reportedly had a habit of throwing champagne glasses from the terraces to the FDR Drive below.
Sinatra kept the apartment until 1972 – during which time period he both married and divorced Mia Farrow – he subsequently sold it to his celebrity doctor, Denton Cox, whose other patients included Warhol, Judy Garland and John Steinbeck.