Exclusive
Suspected Wife-Killer Drew Peterson's Son Is 'Hoping He Is Coming Home'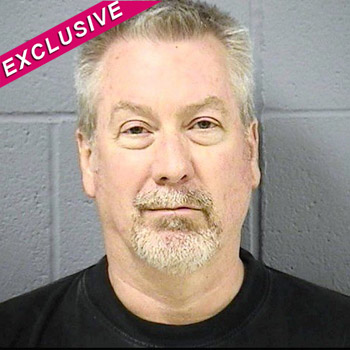 Article continues below advertisement
"Obviously we are hoping he is coming home, however it happens," he went on to say.
As RadarOnline.com previously reported, the 58-year-old dubbed "Mr. Untouchable" is suspected of killing both his third and fourth wives, but is only currently standing trial for the 2004 murder of number three, Kathleen Savio, whose body was found in a dry bathtub in her home with her hair soaked in blood. His next spouse, Stacy Peterson, disappeared in 2007 and while he remains the prime suspect, he has not been charged in connection with her death.
Known for his jovial attitude at the most inappropriate times - which has included laughing as he walked into the Joliet, Illinois, court on the first day of his trial on Tuesday, and calling into a radio show to joke about his life behind bars – the former Chicago cop seemed unfazed that his future freedom is at risk.
"I speak to him a couple of times a week. He's himself," his son told Radar when asked how his dad is coping with the pressure after his lawyer's requests for a mistrial have been rejected three times this week.
Article continues below advertisement
Earlier this month, Stephen was in court for his own fight when he filed a $10 million federal lawsuit over his firing from another police department, reported WLS-TV in Chicago.
Peterson Jr. alleges he was wrongly fired because city officials were angry that he wore his Oak Brook Police uniform when he showed up to testify before a Will County grand jury that was investigating the disappearance of Drew Peterson's fourth wife, Stacy.
Officials concluded the dismissal was because Stephen obstructed the investigation into the disappearance by hiding several of his father's guns. However, Drew claims he was merely passing his favorite guns down to his oldest child, "I was going to give them to Steve when I retired anyway. I only gave him three of the dozen or so guns I owned, and I kept most of my guns in my house and the police confiscated them all, so how could giving him those three guns impede anything?" he told the Herald News.
Article continues below advertisement
Stephen is currently living in the house that Drew shared with now-missing wife Stacy with his four younger step-siblings since his father's arrest, the youngest of two are Stacy's.
Despite the severe family trauma, the children seem to be flourishing and Thomas Peterson, the oldest son by Kathleen Savio, was valedictorian of his class at Bolingbrook High School in 2011.
Before the early recess in the trial on Friday, Anna Marie Doman took the stand and described how her younger sister, Kathleen, had opened up to her about the threats her husband made and warnings that he would kill her.
When asked whether Doman ever told anyone about Savio's statements, she replied: "No one would listen. I tried."
The trial will resume on Tuesday and is expected to last two to four weeks, but whatever the outcome Peterson will not be eligible for the death penalty as it was abolished in the state of Illinois in March, 2011.
RELATED STORIES:
Accused Wife-Killler Drew Peterson Denied Mistrial For Third Time