Inside Dr. William Petit's Wedding Day, 'A Time For New Beginnings'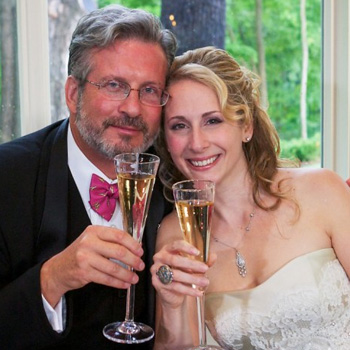 Article continues below advertisement
Dressed in an ivory strapless lace gown by local designer Modern Trousseau, Christine - who met her new husband when she worked as a photographer at events for the Petit Family Foundation - glowed as she walked down the aisle with the dashing 55-year-old on her arm. Around 300 people attended the nuptials with a reception in Simsbury, which was simply described by guest Hayley Hovhanessian as "fun."
As RadarOnline.com previously reported, Dr. Petit's wife Jennifer Hawke-Petit, 48, and daughters Hayley, 17, and Michaela, 11, were tortured and murdered in 2007, and Dr. Petit brutally beaten, by Steven Hayes and Joshua Komisarjevsky, both of whom have been sentenced to death.
Jennifer's family has rallied around the union with her father, Reverend Richard Hawke, saying that his daughter would have wanted William to find someone like Christine to spend the rest of his life with.
Article continues below advertisement
"My theme for the prayer was this is the day for new beginnings," he wrote in a touching blessing that was read out by a cousin. "After having come through the home invasion and the death of his entire family ... this marriage was a time for new beginnings."
Rev. Hawke was supposed to read the blessing himself, but he and his wife could not attend due to her illness.
"My wife and I hope that they have children," he said, reported the New York Daily News. "And that they would love those children just as much as (Petit) loved his other children."
Cindy Hawke-Renn, Jennifer's sister, said that Christine's down-to-earth and jovial personality has helped change her brother-in-law "from a man of despair to a man of hope."
"There's been a huge change in him. He sees a reason to be happy again, a reason for joy in his life," she revealed.
Paluf was a regular sight in the courtroom with Dr. Petit and his family during Komisarjevsky's triple murder trial last year.