Exclusive
Cement Butt Implant Doctor Arrested For Manslaughter, Victim Fears She 'May Be Next To Die'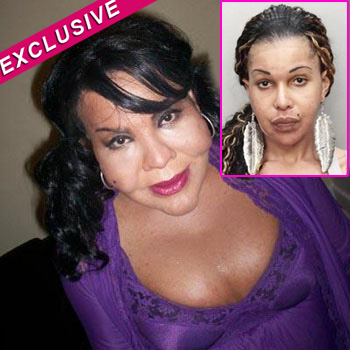 By Debbie Emery - RadarOnline.com Reporter
The Florida transgender woman who posed as a doctor and injected a toxic cocktail of cement, tire sealant and mineral oil into the butts and faces of her 'patients' has been charged with manslaughter, and now RadarOnline.com can exclusively reveal that the fatality has sparked fear into the hearts of her other victims.
Oneal Ron Morris, 32, was arrested last week and charged in the death of Shatarka Nuby, 31, who died in March while serving time in a Tallahassee prison. After her death, the assistant medical examiner determined Nuby died of "massive systemic silicone migration" as a consequence of cosmetic silicone injections that were allegedly given to her by Oneal in 2007, which she then sealed with cotton balls and super glue.
Article continues below advertisement
"It worries me that my health could get worse. I just hope that it doesn't happen to me but it really concerns me, I am scared I might be next," Rajee Narinesingh of Hollywood, Florida told RadarOnline.com in an exclusive interview.
As RadarOnline.com previously reported, Narinesingh – who is also transgender - was the third known victim to receive toxic cement injections from fake doctor Morris in 2006 to make her look more feminine, but the distorted results were a far cry from the face of her dreams.
Although she didn't know Nuby personally, Raj had heard she had been sick and is now watching her own health carefully so that she won't become the next death at the hands of Morris. "Going forward it is in the back of my mind, I am trying to be positive and pray and think that everything is going to be OK, but she had her injections in 2007 and she died now so I may still be at risk.
"Most likely I will be OK because after so many years usually something like that would happen shortly after, but there's always a chance. I keep going to the doctors regularly and I monitor myself, I have become very, very conscious of my body if I feel any pain," she told RadarOnline.com.
Article continues below advertisement
Narinesingh revealed that she hopes now that Morris is in prison, justice will be served. "I just cannot understand how you can do this to people, I am speechless. I am so perplexed," she said. "I want to testify at her trial, if they ask me to I definitely will.
"There should be some sort of serious punishment. In life, we all make mistakes, sometimes they are really bad and you have to pay for them, but hopefully whatever she is sentenced is a message to her that what she did isn't right, and she will then hopefully turn her life around and do some good."
MORE ON:
Celebrity Justice
As the D.A continues to build its case against Morris, Raj is trying to move on with her life despite the huge nodules of cement that she still has protruding from her face and body.
"I have positive days and then I have down days. I am still going to my psychologist once a week, I have been diagnosed with post traumatic stress disorder, depression and agoraphobia," she confided.
She still struggles with going out in public. "I can go on a talk show because it is a set platform for me, but to go to a mall is devastating. I think it is the fear of the unknown and that people are going to say nasty things," she revealed.
Article continues below advertisement
Butt Implant Fake Doctor Arrested, Faces New Charges As More Victims Come Forward