More Victims Come Forward Of Transgender Fake Doctor Who Carried Out Cement Butt Injections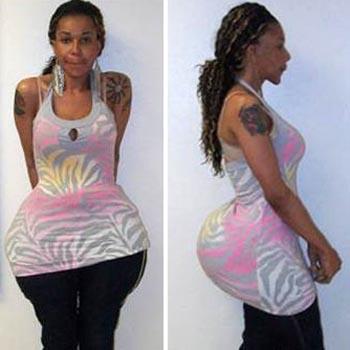 As police predicted, more people have come forward and admitted that a transgender woman posing as a doctor injected them with a toxic cocktail of cement, flat-tire sealant and mineral oil to boost their buttocks, RadarOnline.com has learned.
Oneal Ron Morris was arrested on Friday and charged with practicing medicine without a license and causing serious bodily harm but has since been bonded out on bail, reported NBCMiami.com.
Article continues below advertisement
As RadarOnline.com previously reported, born a man but living as a woman, 30-year-old Morris charged an unidentified woman $700 for the series of butt-enhancing injections in May 2010.
The poor woman was overcome with pain but too embarrassed to tell a doctor what had happened despite multiple trips to the hospital. She has since undergone several surgeries and underwent 24-hour care.
Now several other victims claim they had similar bad experiences with the bogus doctor, who has a huge behind by reportedly plumping her own buttocks with the bizarre mixture, and also suffered life-threatening injuries, revealed Jennifer Hirst, a spokesperson for the Florida Department of Health.