Doppelganger Dads & Sons! Celebrity Kids Who Look Just Like Their Fathers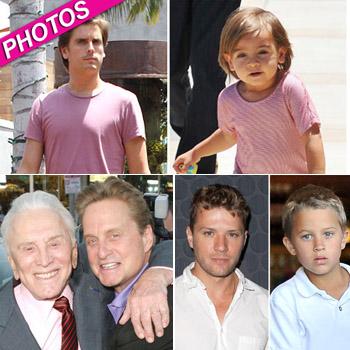 There is no question of paternity when it comes to these Hollywood father and son duos!
From big screen hunks and soccer studs to Latin singing sensations, these smokin' hot pops have given themselves some major competition -- by having children that end up looking just like them! Following Doppelganger Daughters, RadarOnline.com has photos of 10 celebrity doppelganger father and sons.
Article continues below advertisement
Mason may be one-half Kardashian, but the adorable tot is without a doubt a Disick.  A mini me of his father Scott when it comes to his looks as well as his style, the 2 1/2 year-old is a total hunk in training!
Tom Hanks and Will Smith are both critically acclaimed actors with ridiculously similar-looking sons who are attempting to follow in their famous footsteps. Both Jaden Smith and Colin Hanks could easily play younger versions of their doppelganger dads in movies, but are attempting to make their own Hollywood history.
As soon as the first photos of Arnold Schwarzenegger's illegitimate son, Joseph Baena, hit the internet, it was clear that the former Governor of California had some explaining to do -- the teenager is the spitting image of his action hero pops!
What other Hollywood doppelganger dads and sons are on our Radar? Find out by clicking here.