Doppelganger Daughters! Celebrity Kids Who Look Just Like Mom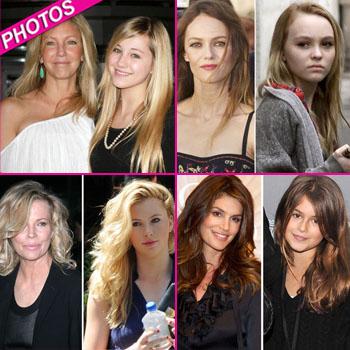 Like mommy, like daughter!
It should come as no surprise that Hollywood's most stunning stars give birth to the most beautiful babies, but when they grow up, it can often be shocking just how much they resemble their hot mamas. From the sexiest singers to big screen bombshells, RadarOnline.com has photos of 10 celebrity spawn who look just like mom.
Supermodels run in the family! Cindy Crawford's 10-year-old girl looks just like her, and is already scoring modeling gigs. Kaia Gerber made a name for herself earlier this year, when she appeared in a Young Versace campaign, but don't expect to see her strutting her stuff like her supermodel mom anytime soon! Cindy has put her daughter's career on hold until she gets a little bit older.
Article continues below advertisement
Kris Jenner has given birth to a slew of Kardashian beauties, but it is her teenage daughters from her second marriage to Bruce Jenner, Kendall and Kylie, who really resemble their mother! The reality show starlets are already scoring modeling gigs and dancing in their bikinis with the rest of the Kardashian klan.
Ireland Baldwin is in her "sweet sixteen" year, and she has never looked so much like her mother, iconic beauty Kim Basinger. With her long, slender legs and beautiful blonde hair, the New York City teen is quickly coming into her own fame.