No Doubting Who His Mom Is! Cynthia Nixon Shows off Her Adorable Son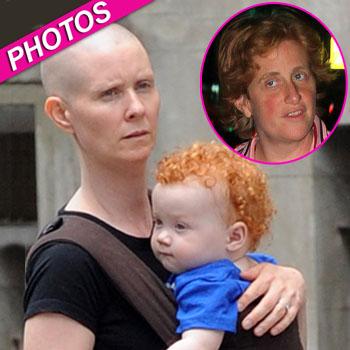 Cynthia Nixon was spotted out and about with her adorable baby boy, Max, on Thursday and RadarOnline.com has the super cute photos.
As RadarOnline.com previously reported, Nixon's fiancée, Christine Marinoni gave birth to the little boy in February 2011, and with his shock of curly bright ginger hair he is the spitting image of his birth mom.
Nixon was sporting a totally bald head after shaving her hair off for her role as a terminal cancer patient in the Broadway play, Wit. The 45-year-old debuted her daring new look on Live! With Kelly back in January, explaining that being bald is surprisingly high maintenance. "I thought it was kind of gonna be no muss-no fuss, but I have to shave it every day!" Nixon revealed. "It's got kind of a five o'clock shadow, and you don't want to go on with that. I was always kind of curious to see what it would be like. I like it; I don't think I'm gonna keep it forever."
Article continues below advertisement
The Sex and the City star created a media firestorm earlier this year when she opened up to the New York Times about how she chooses to be gay — a viewpoint that goes against the grain of belief for many within the gay community.
"I gave a speech recently, an empowerment speech to a gay audience, and it included the line 'I've been straight and I've been gay, and gay is better.' And they tried to get me to change it, because they said it implies that homosexuality can be a choice. And for me, it is a choice," she said. "I understand that for many people it's not, but for me it's a choice, and you don't get to define my gayness for me. A certain section of our community is very concerned that it not be seen as a choice, because if it's a choice, then we could opt out. I say it doesn't matter if we flew here or we swam here, it matters that we are here and we are one group and let us stop trying to make a litmus test for who is considered gay and who is not.
"Why can't it be a choice? Why is that any less legitimate? It seems we're just ceding this point to bigots who are demanding it, and I don't think that they should define the terms of the debate. I also feel like people think I was walking around in a cloud and didn't realize I was gay, which I find really
offensive. I find it offensive to me, but I also find it offensive to all the men I've been out with."
Article continues below advertisement