World's Strongest Man Picks Up 830-Pound Car Five Times In A Row!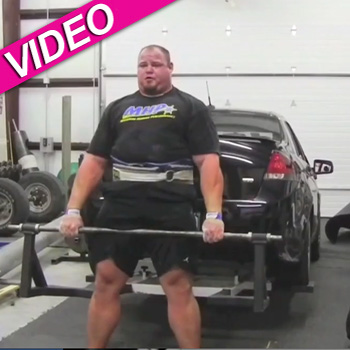 By Alexis Tereszcuk - Radar Entertainment Editor
Most guys like to brag about how much they can bench press at the gym, but the World's Strongest Man really goes beyond all that and RadarOnline.com has an exclusive video of his workout where he picks up a car, for exercise.
Brian Shaw is 6'8" tall and a powerful 460 pounds, and to work out he has to go to extreme measures. So he has devised a plan to put even more weight in a 500-pound car and then pick that up!
Article continues below advertisement
"I'm trying to increase the weight for car dead lifting, adding weight to the trunk," Brian says in the video.
He adds two 100-pound plates, then adds a third 100-pound plate for a total of 300 pounds in the trunk of the car.
"I'm weighing this at 830 pounds," Brian says and says his goal of lifting the car five times in a row would be a new record for him.
Check out the video of Brian on RadarOnline.com to see if he can pick up the 830-pound car five times!