Dogg No More! He's Now Called Snoop Lion, Mon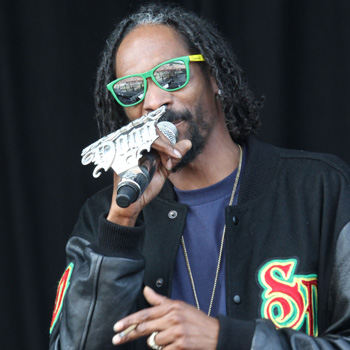 By Jon Boon - Radar Reporter
He's been called the Dogfather, D.O. Double G and just plain Snoop but now the rap legend is going under the moniker Snoop Lion, RadarOnline.com reports. 
The 40-year-old West Coast hip-hop star has reinvented himself as a reggae artist for his latest album Reincarnated after undergoing a spiritual and artistic rebirth in Jamaica.
He even enlisted the help of a Rastafarian priest for his rechristening!
Article continues below advertisement
"I have always said I was Bob Marley reincarnated," Snoop revealed at a press conference at Miss Lilly's, a Caribbean restaurant in New York Monday.
"I feel like I have always been a Rastafari. I didn't have my third eye open, but its wide open right now," he added.
Snoop Lion, real name Calvin Cordozar Broadus, Jr. has also admitted giving up rapping about violence now that he's found himself preaching the peaceful vibrations of reggae, which he called "music of love."
"There comes a point where you say I done it all, or there isn't much more to do," he said. "This was like a rebirth for me."
"Rap is not a challenge to me," he said. "I had enough of that. It's not appealing to me no more. I don't have no challenges. I'm 'Uncle Snoop' in rap. When you get to be an uncle, you need to find a new profession so you can start over and be fresh again. I want to be a kid again."
Article continues below advertisement
And, for the first time, Snoop will be singing all the songs on the new LP – one highlight being "No Guns Allowed," which is a plea for the banning of handguns.
"I have always wanted to make a song that could really stand for something," he said. "I could never make a song called 'No Guns Allowed' because I was supposed to be a gangsta," Snoop said.
Snoop Lion's new album will be followed by a documentary on his musical change and a book. According to AP, the film will debut at the Toronto International Film Festival in September.