Snoop Dogg 'I Was Roofied At The Playboy Mansion'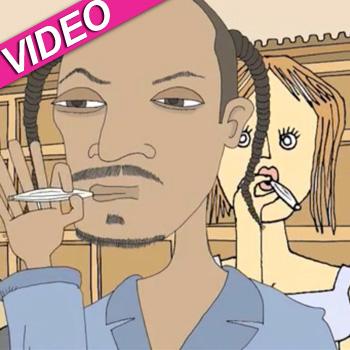 It's no secret that Snoop Dogg loves to party, but even the most experienced partiers will be shocked by his confession!
For a new series of videos, appropriately titled PARTY LEGENDS, VICE teamed up with the upcoming feature film, PROJECT X, and rounded up its favorite celebrities with legendary party pasts, asking them to tell us their most ridiculous party stories. In the first of the series, the celebrated rapper
Article continues below advertisement
tells a shocking tale from "way back in the days" about being roofied at the Playboy Mansion, and the series of escapades that followed.
Smoking what looks like a joint as he narrates the animated video, Snoop details his wild night at the mansion, which began as he arrived wearing a blue smokers jacket and Playboy Mansion robe with his pal Bishop Don Juan.
Carrying a pimp cup filled with "half a gallon of champagne and gallon of orange juice" Snoop generously shared his beverage of champions with a few Playboy Bunnies. The rapper claims that he turned his back as the girls sipped on the drink, and when it was returned to him and he resumed
drinking, he became dizzy and fell down a flight of stairs.
Two "white girls" told Snoop that "someone slipped a roofie to you" – but he didn't let the accident and drugging incident stop him from enjoying the rest of the evening.
He proceeded to smoke some more weed and then hit the famous Grotto, giving the bunnies "more than they could handle."
For more details about PROJECT X, click here.
You can watch the video here but BE WARNED: This is DEFINITELY NOT suitable for work and contains explicit language.