Say What?!? Snooki Tells Newt Gingrich: 'I Am Trying To Be Like You!'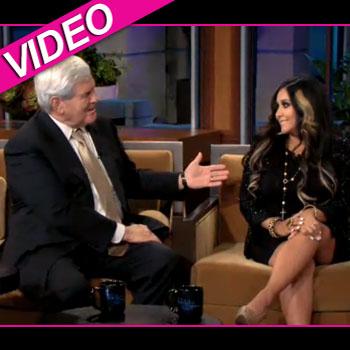 The GOP and the Guidette crossed paths on The Tonight Show Wednesday, as former Republican presidential candidate Newt Gingrich and reality TV starlet Snooki traded pleasantries.
Gingrich was the first guest, and discussed the upcoming election in his segment, while the very pregnant princess of Seaside Heights appeared second to plug her MTV spin-off Snooki & J-Woww, and her latest book Gorilla Beach (a follow-up to her 2011 New York Times bestseller, A Shore Thing).
Article continues below advertisement
While Gingrich said he wasn't a regular Jersey Shore viewer, he admitted he likes what he's seen from Snooki.
"I'm really impressed … I've seen clips of Jersey Shore … I saw some of your interviews when you did your first book," Gingrich told Snooki. "Congratulations on having two New York Times bestsellers."
"Thank you," Snooki joked, "I am trying to be like you!"
Both tweeted ahead of time previewing the unlikely meeting of the minds: Snooki, 24, wrote "Chillen w Newt," while Newt tweeted, "On the way to snooki and jay … Tonight show is always a class act."