Sage Stallone 'Seemed Spaced Out,' But 'Hopeful For The Future,' Reveals Photographer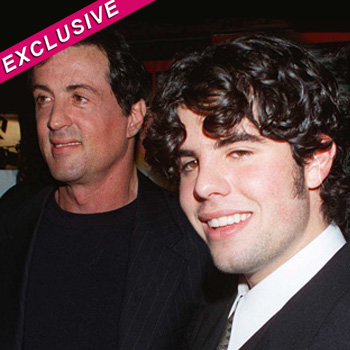 By Debbie Emery - Radar Reporter
Just two months before he died of a suspected drug overdose, Sage Stallone was excited for new work projects and even making plans to shoot a 16 mm movie, RadarOnline.com can exclusively reveal.
"I saw nothing to suggest that he was in a suicidal mood. He was telling me about how he wanted to shoot a film, he seemed hopeful for the future and making work plans," photographer Mark Berry told RadarOnline.com in an exclusive interview.
Article continues below advertisement
"My impression was that he was a very talented character who seemed under the influence of a pharmaceutical medication, he wasn't a wreck but he was just a little spaced out," Berry went on to reveal to Radar.
"I wasn't entirely shocked when I heard (of his death), my initial thought was that he had an accidental overdose, or that his body just packed up," he said.
The circumstances surrounding Sage's death remain a mystery as no suicide note has been found and friends have denied that he had either a drug problem or financial issues.
Article continues below advertisement
"I would be very surprised if it was on purpose, I think it was an accident," said Berry, who called Stallone "a very generous host."
The photographer's colleague, Robert Rhine, founder and publisher of Girls And Corpses backed up the opinion that Sage seemed "spacey," telling Radar: "There was something that wasn't quite right about how he looked, like he was on something.
"He was slow and meandering. He seemed groggy but not depressed," revealed Rhine.
While it has been reported that Sage's home was littered with trash, beer cans and cigarette butts at the time of his death, Rhine described it "as a beautiful million dollar house on Mulholland Drive.
"I didn't see any squalor or filth, it wasn't like the show Hoarders like it has been betrayed," he told Radar, adding that Stallone had both a maid and a pool cleaner.
Although an autopsy was carried out on Sunday, the cause of the Rocky star son's death will remain unknown until the results of toxicology tests come back, which could be several months.