Book Sheds New Light On Mick Jagger's Rocky Marriage To Bianca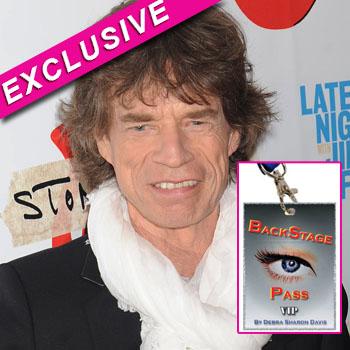 Thursday marks the 50th anniversary of the Rolling Stones' first-ever stage performance, and we've got a special story about the rock legends to commemorate the date.
Mick might have the moves like Jagger, but it was Bianca who wore the pants in the family during their marriage in the 70's, according to the best-selling book BackStage Pass VIP, in which author Debra Sharon Davis dishes never-heard-before details about the rock legends.
Article continues below advertisement
Bianca, according to the book, often came out on top when she and Mick got into fights.
"If Mick stayed out too late, Bianca would deadbolt the door and look down at him from the second-story window spewing curse words in French and Spanish," Davis writes. "Jagger would stand outside like a discarded alley cat, embarrassed in his prestigious neighborhood of aristocrats, politicians and other famous folks as he shouted into the night, 'Do you know who I am?'"
Davis writes Bianca always "held her ground and eventually Mick would slink off into the night and check into a hotel. The next morning he would come back with flowers or jewelry to gain re-entry into his home."
Bianca --  who would taunt Mick to "go sleep with your b****es" -- "was clever and knew her husband's trigger points," Davis writes.
One of those triggers was money, and Bianca knew a special way to taunt miserly Mick.
Article continues below advertisement