Exclusive
Prince Jackson's Controversial Tweet Removed As Family War Grows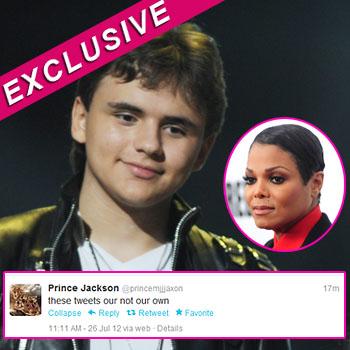 Article continues below advertisement
RadarOnline.com has independently verified the validity of the text messages and Twitter account.
In the text -- sent this past Monday at 4:52 p.m. -- Prince Michael writes "This is enough so I am texting you for the simple fact that WE DEMAND TO SPEAK TO MY GRANDMA NOW!" Prince Michael sent the text to his aunts Rebbie and Janet, and also to another relative, Austin Jackson. Janet responded: "Don't let them pls."
The text exchange contradicts a claim made by Randy Jackson earlier this week that Michael's children were free to see or talk with their grandmother at any time.
Those Tweets have since been deleted from Prince's profile and replaced with "these tweets are not our own," which was posted from a computer and not an iPhone, which Prince usually uses when posting to his account. The most recent Tweet has also been deleted.
Article continues below advertisement
"There is cause for concern because Prince and Janet did exchange those text messages that were shown on his Twitter account early this morning," a source close to the situation tells RadarOnline.com. "Prince was up very late last night and was in possession of his cell phone. Prince fell asleep very, very late last night, so there's a level of speculation that he wasn't the person to remove the tweets -- that someone else did, and then posted the new bizarre message in place.
"The children are absolutely safe though. Remember, TJ is their legal guardian right now, not Katherine. Even though she is home the kids' regular security team are with them and haven't been replaced."
Meanwhile, Katherine Jackson's attorney, Perry Sanders hopes to meet with his client later today to discuss a game plan to regain custody of her grandchildren, according to our sources.
Story developing....