Exclusive
Mob Wives' Renee Graziano Shows Off Her Plastic Surgery Makeover, 'I Love My Sexy Tush!'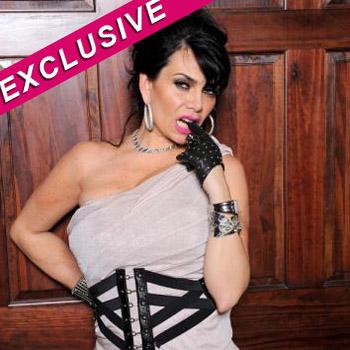 Article continues below advertisement
Graziano got the life-changing surgery from NYC celebrity plastic surgeon Dr. Michael Fiorillo three weeks ago to correct a botched full body lift that she got from another doctor, and she is already totally recovered and ready to flaunt her hot new assets.
"There was a huge hole in my back so he grafted part of my stomach and then with all the fat left over he filled my rear end and I no longer have a tiny heinie," explained Renee. "I have always been top heavy, I had E cup breasts and no butt whatsoever.
"The recovery was great. I was out in two days, whereas my first surgery took me four months to recover from. I am so happy with the results! I have the cutest little tush. I keep telling everyone to touch it," gushed the 42-year-old single mom.
Dr. Fiorillo revealed how he gave Renee her smoking hot body after her traumatic results of the past surgery.
"It was a home run, I'm very excited for her! The first thing was the reconstructive part where I filled that hole in her back, so I cut out the scar tissue and closed it with a slat to pull things together," he explained.
Article continues below advertisement
"Then I did a Brazilian butt lift involving liposuction out of her mid section - stomach, flanks, back and thighs and took out about two liters of fat. We washed it then injected it into her behind to give her a nice bubble butt," he told RadarOnline.com.
Renee went on to reveal how she is finally happy with her appearance after years of being beaten down by her ex-husband, Hector "Junior" Pagan, who is currently serving time for running a marijuana distribution ring.
"My ex-husband, that creep, gave me the worst complex in the world. I had surgery because he told me I wasn't pretty enough," she bitterly explained. "I wasn't mentally strong enough to stand up to him so I gave into some very foolish things."
Following her latest full body makeover, Graziano vowed that she is done with going under the knife -- apart from a little breast lift and her regular dose of injectables, of course!
Article continues below advertisement
"I'm done chopping my body, I will still maintain my face but that can be filled with my own body fat now too so it's nothing foreign," explained Renee.
Now that she's had her reconstructive surgery, all that is left is to flaunt it on the beach this summer. "I am going to make as many photo ops as possible for my ex husband who is in prison to make him jealous!" laughed the outspoken reality star.
RELATED STORIES: