Exclusive
'Mob Wives' Stars Renee Graziano & Karen Gravano Get Life Makeovers From Plastic Surgeon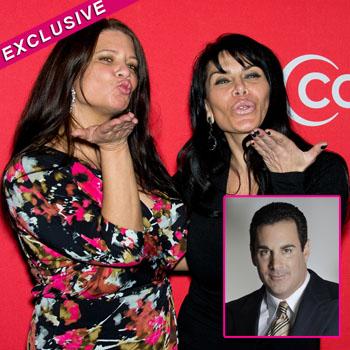 Article continues below advertisement
"Renee had a body lift, which is a surgical procedure that goes all the way around the torso, and after she had it done the wound ended opening right above her buttocks and there was a hole there," Dr. Fiorillo, who will appear in Sunday night's episode of the reality show, told RadarOnline.com in an exclusive interview.
"She has a really ugly looking wound on her back, she had an infection and lost a lot of blood," he went on to explain.
Luckily the surgeon to the stars came to the rescue and took over her care. "She definitely had a complication. We haven't fixed it just yet, but we got it to close and to heal after antibiotics and then we operate in May.
"I am going to cut out the scar tissue and pull it closed, and pull everything together," he revealed.
Dr. Fiorillo went on to explain why the 44-year-old daughter of crime boss is the daughter of Anthony Graziano suffered so much from the initial procedure.
Article continues below advertisement
"The body lift is a tough surgery, it is really meant for someone who has lost over 100 pounds to get rid of loose skin, so I was surprised that she did that," he told us.
Renee isn't the only star of the show with a penchant for plastic surgery, as RadarOnline.com previously reported Angela "Big Ang" Raiola has admitted that she is addicted to going under the knife.
As for Karen, she is going to be performing procedures in the surgeon's new Manhattan day spa, Luminique Medspa, rather than receiving them.
"I met Karen through Renee, she came to some of her visits with her and that's how we got talking about the spa," he explained.
"She mentioned she was an esthetician and she owned a spa in Arizona, I told her I was opening one in Manhattan and she said she was interested. So far it has turned out great. She helped me get it ready for opening, and she is going to do make facials and skincare."
As the daughter of notorious mobster Salvatore "Sammy the Bull" Gravano, a former underboss of the Gambino crime family, Dr. Fiorillo admitted he had misgivings at first.
Article continues below advertisement
"I was a little apprehensive about her background with Sammy, but she is a lovely girl and she seemed committed and knows her stuff," he said.
"I agonized about having her come in and I don't know if it will be positive or negative in the long-run. I hope people aren't turned off because it is associated with the mob story and Mob Wives.
"But I think people deserve second chances. I am proud of being Italian American so wanted to support her, she got a lot of criticism but that was for what her dad did and not her," said Karen's new boss.