Exclusive
Melanie Griffith And Antonio Banderas 'On The Brink Of Divorce', Says Source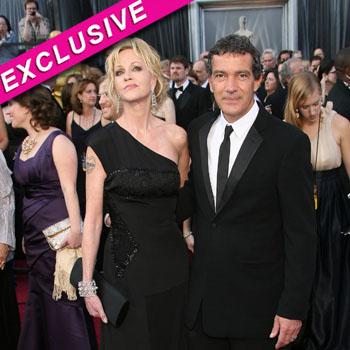 Despite Antonio Banderas' best attempts to save his crumbling fifteen year marriage to Melanie Griffith, the two are "on the brink of divorce" a source tells RadarOnline.com exclusively.
"Everyone in the family is distraught over this but the sad fact is they're really not in a good place," the source says. "At this point the word is that they're literally on the brink of a divorce.
"This isn't a new problem, there have been some big issues for a while. They've been in counseling and they're still going, but overall it seems to be the end of the road.
Article continues below advertisement
"They love each other very much and always will but they haven't been the way they used to be for a while now. They used to be the most passionate couple, they couldn't keep their hands off each other. But they haven't been intimate in months and rarely even sleep in the same room these days. It's not good.
"Melanie is absolutely distraught. This was her fairytale and it's falling apart. They've been through rough spots before, so there's always hope that they'll get it together and fix this, but right now that is definitely not looking like that is the case. There's still a lot of love there though, that's for sure.
"It's not a case of them hating each other but it's a very hard time for everyone right now. No one really wants to accept that it's happening, that's why they're still keeping it all under wraps.
"Also, they have the children to consider, neither one wants to make a final to decision to pull the plug and go public with this until they are 100% sure there is no going back."
Melanie and Antonio's reps have kept quiet regarding the numerous reports and not responded to requests for comment regarding trouble in their clients' marriage, however, a source close to the couple told People magazine Thursday that "they seem absolutely fine."