Exclusive
Antonio Banderas Is 'Desperado' To Save Marriage To Melanie Griffith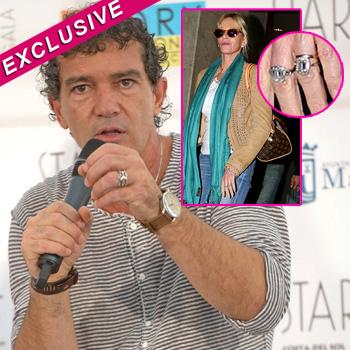 Article continues below advertisement
"Antonio has been desperately trying to win Melanie's trust back," a source tells RadarOnline.com.
"He has been doing everything in his power to revive the romance -- flowers, sweet-talking on the phone, and extravagant gifts -- because he realizes that she is close to her breaking point."
Griffith, who was photographed last week without her wedding ring on, knows that she has the upper hand in the situation though and isn't going to give in easily.
"She is playing hard to get," the source revealed. "She has always known how to keep him on his toes and it wasn't a coincidence that the cameras caught her with her wedding ring off! Ultimately she will probably stay with him but not before making him squirm."
Though Griffith's wedding bling in back on her finger, the Working Girl actress is keeping her distance, spending time vacationing with their children in Aspen and Hawaii, while Banderas is busy jet-setting around the world for work.
Article continues below advertisement
"The day Antonio flew into Los Angeles for a work gig, Melanie left with the kids for Aspen. She isn't messing around.
"The last thing Banderas wants is a nasty high-profile divorce," the source continues. "Despite their problems he still loves her and will do anything to keep her from leaving him."
RELATED STORIES:
Doppelganger Daughters! Celebrity Kids Who Look Just Like Mom