From Hot To Not! 10 More Stars Who Haven't Aged Gracefully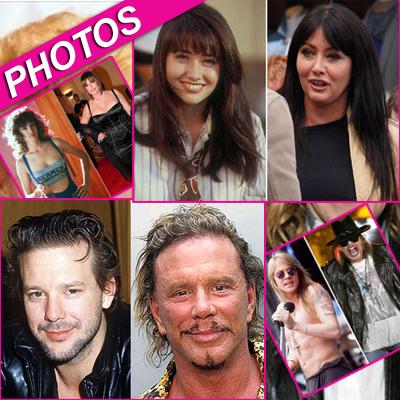 They may have been smokin' hot in their prime, but time hasn't exactly been on these celebrity's sides!
From the sexiest big screen sirens and Hollywood hunks to hugest rock stars of the 1980s and 90s, these stars have gone through shocking transformations over the years -- and not for the better.
RadarOnline.com brought you photos of 10 celebrities who haven't aged gracefully, and now we are bringing you even more!
Article continues below advertisement
Axl Rose and Vince Neil were the biggest rock gods of the 1980s and 90s, with plenty of panties getting tossed their way, but their stage beauty hasn't sustained all the partying they have done over the last few decades. While Rose is rumored to have undergone several plastic surgeries, Neil's struggle with the bottle has taken its toll on him, as can be seen from his most recent mugshot!
Lara Flynn Boyle was flawlessly faced when she starred in hit shows Twin Peaks and The Practice, but after several rumored surgeries, the actress is now looking more plastic than fantastic!
Mickey Rourke may have made a career comeback in recent years, but sadly it seems as if his looks are gone for good. The Wrestler star was one of the hottest hunks in Hollywood during his prime, but his fabulously sexy face took a massive hit during his short-lived boxing career.
Kelly LeBrock was one of the sexiest stars of the 1980s, making all the boys drool in Weird Science, but the actress isn't looking quite so foxy these days.
And Melanie Griffith looked sweet-faced and innocent in 1988's Working Girl, but after a few decades and several rumored surgeries, she is far from a natural beauty.
What other stars haven't aged gracefully? Find out by clicking here.