Dancing Teen Queens! Bikini Clad Kylie & Kendall Jenner Prance For The Cameras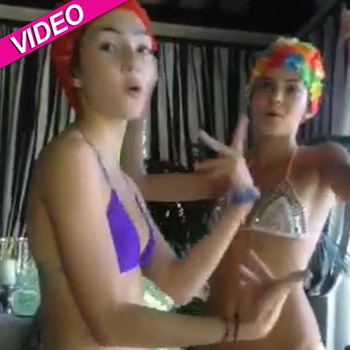 Kendall and Kylie Jenner may be only teenagers, but apparently their parents have no problem with them flaunting their bodies in overtly sexy style.
In a new video, resembling Kate Upton's infamously banned YouTube video Cat Daddy, Kim Kardashian's teenage sisters show off their bikini bodies and their dancing skills – and RadarOnline.com has their performance.
In the video, which was uploaded to Keek on Wednesday and has already gotten more than 55,000 views, Kylie, 14, and Kendall, 16, are shown in their bikinis and swim caps, dancing like they are in a hip-hop video.
Article continues below advertisement